Gas Furnace or Boiler
Routine Care Task
Schedule annual professional cleaning, inspection, and adjustment
Priority





This task is important for safety reasons.An improperly maintained furnace that burns oil or gas can leak dangerous carbon monoxide gas into the home or building.About 200 people die each year from carbon monoxide poisoning related to fuel-burning furnaces.
In addition, energy bills can rise as much as 10-15% as a result of inefficient equipment operation.And further, annual maintenance can help extend equipment life by 20-30%, which means an additional 5-10 years of usage for the average furnace or boiler.
Timing:

September

(yearly)



NOTE: The tasks and timings shown here for your Gas Furnace or Boiler are based on a single-family home (owned), located in Massachusetts, United States, with priority set at '1 star' or higher, for all possible goals.
If you set your personalization differently in your Home Wizard app, then you may get reminders for different tasks and timings in your recommended home care program for your Gas Furnace or Boiler.
How To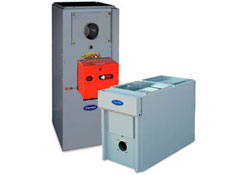 Annual furnace maintenance should be conducted by a trained person, and the tasks include:

- Clean the burners.

- Clean all air ports.

- Oil motor.

- Test thermostat operation.

- Replace oil filter (oil-filled systems).

- Drain the expansion tank (hot water systems).

- Examine blower blades and belt, check dampers, and replace filters (forced air system).

- Check for leaks in pipes, flue, and firebox.

- Clean the stack and smoke pipes.
Benefits
Energy Savings

Health & Safety

Avoiding Unscheduled Repairs

Maintaining Value
The benefits of this task are very high from both a safety and an energy savings standpoint.
Costs





The cost of this task is moderate for hiring a trained professional to do this task.

Gas Furnace or Boiler